Home »
Products
»
Marble Planters
»
Hand Carved White Marble Planters with Figure for Garden Decor for Sale MOKK-56
---
Hand Carved White Marble Planters with Figure for Garden Decor for Sale MOKK-56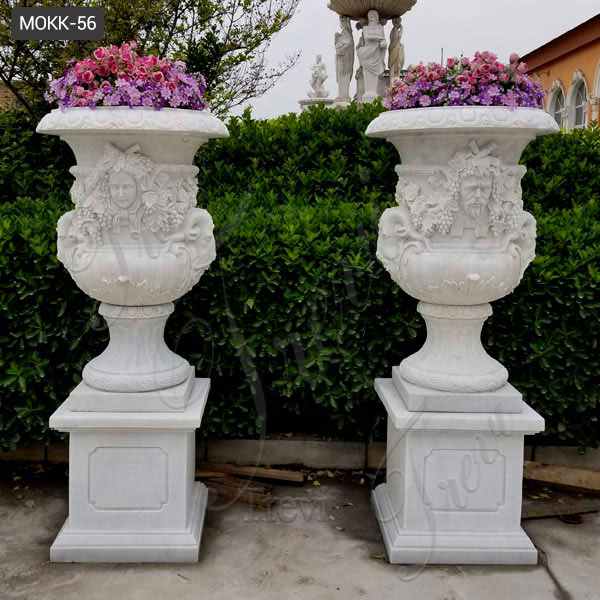 This hand-carved white marble planters with figure carving details is very suitable for outdoor garden decoration. The exquisite carvings are also very vivid. Therefore, our marble planters could definitely become a focal point in outdoor decoration that could attract people's attention.
Item No: MOKK-56
Material: Natural White Marble
Insurance: Cover All the Risk
Package: Strong Wooden Case
Service: Customize Acceptable
Advantage: Factory Direct; Door to Door Delivery
Contact us
Get price
---
White Marble Planters with Figure Details:
These hand-carved white marble planters with figure carving details are very suitable for outdoor garden decoration. The planters are carved with exquisite figure designs and other fruit pattern decorations, which are full of details. The exquisite carvings are also very vivid. Therefore, our marble planters could definitely become a focal point in outdoor decoration that could attract people's attention.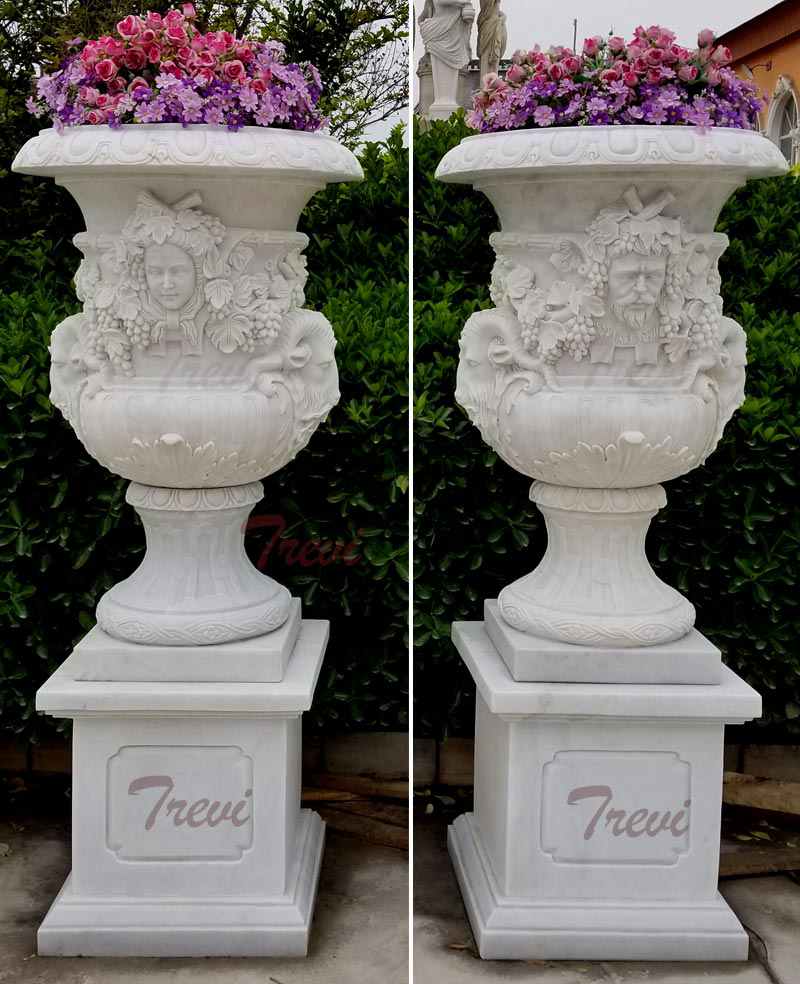 Use high-quality Marble Stone:
Our pair of white marble planters with figures are made of high-quality natural marble. The use of high-quality marble stone could not only ensure the quality of the flowerpot but also ensure that the details of the carving are more vivid and exquisite.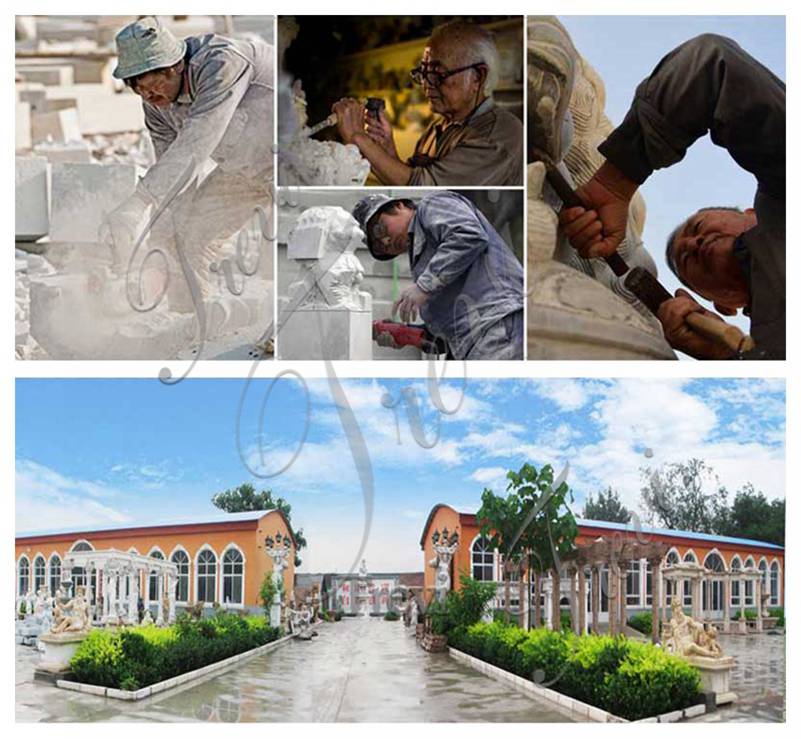 Offer Quality Marble Planters:
Of course, as a professional marble carving factory, Treiv Art would provide customers with high-quality white marble planters designs. To meet their decorative needs through the combination of exquisite carving techniques and stone. We would also perforate the bottom of the marble flowerpot to facilitate customers to plant their beloved plants.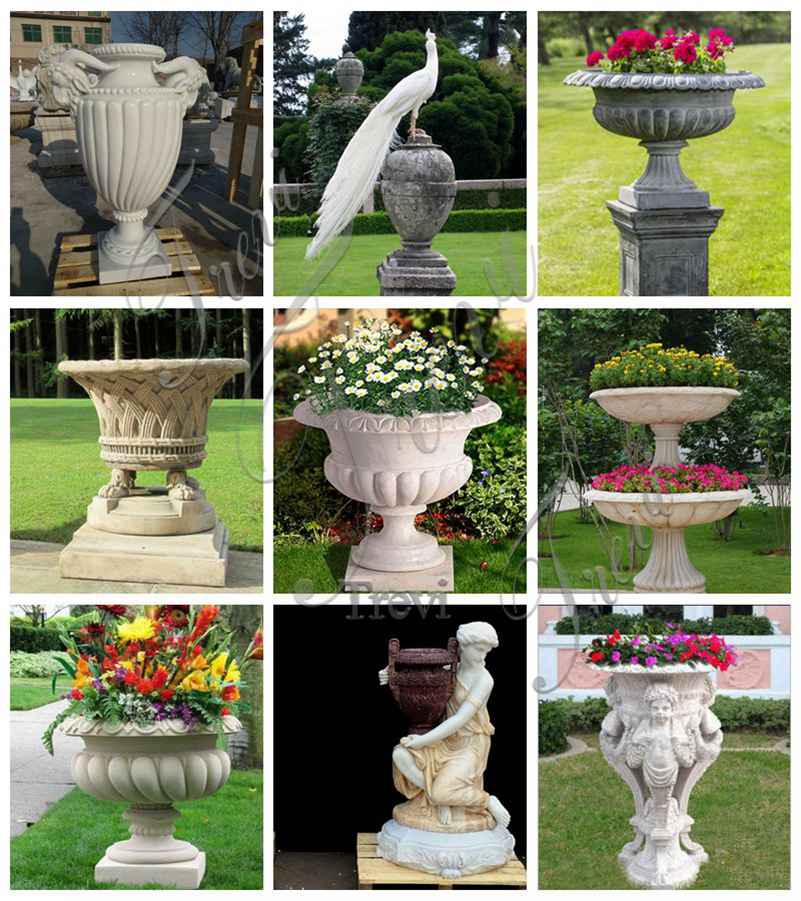 Why Choose Trevi Art?
Trevi Art Sculpture Gallery is located in Quyang. As everyone knows, Quyang is the "hometown of sculpture". Our main products are marble fireplaces, marble columns, marble planters. Regarding the material, it depends on your requirement. Usually, we use first-class white marble, sandstone, travertine, granite, and other natural materials. We are a basic stone carving factory that could do all the production. We could also produce a variety of stone products based on your pictures or drawings.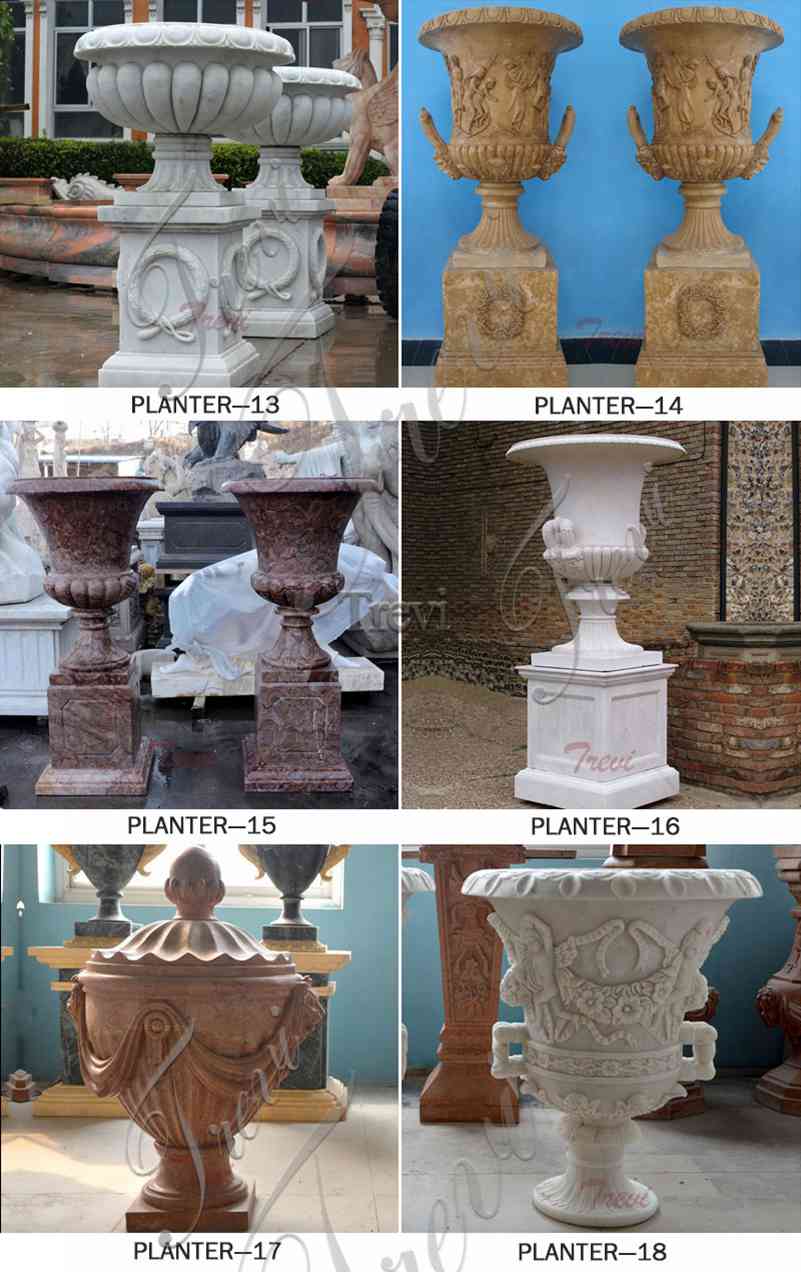 Marble planters are an indispensable part of the garden decoration. Having a beautiful flower pot could not only add beautiful colors to your outdoor garden but also plant your favorite plants. Isn't it perfect?
If your outdoor garden or other outdoor places need suitable hand-carved white marble planters, please feel free to contact You Fine. We have hundreds of marble flowerpot designs to choose from, and there is always a suitable outdoor garden for you.
Products Related
---